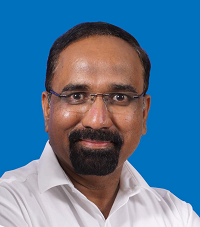 Working Area: Manufacturing Operations
"I have joined Endurance 33 years ago as production engineer and reached to CBUH (Channel Business Unit Head) managing multiple plants operations."
Career Progression at Endurance
Became Business Unit Head comprising multiple plants of one business segment
Joined as Production Engineer then became Production Manager
How you feel about working at Endurance?
I feel proud to be a part of this organization which allows employees to work freely with career progression. I spent 32 years in Endurance due to getting challenging assignments, continuous growth, trust of management and satisfaction.
What advice you would give to aspiring professionals about working at Endurance?
If you are hard-worker and contributing to organization whole heartedly for each assignment/project given to you, Endurance is the best place to work. Accepting challenges and shoudering more responsibility will definately give you better opprortunity in your career path. I would say sky is the limit to grow in Endurance. Always be turst on yourself, management and the organization. Take a lead to drive, to achieve organisational goals, to live with organization's values. You will get respect and creer growth.