We ensure to deliver reliable and quality solutions. With over 19 years of experience, we have increased our penetration in India and globally with 350+ distributors in India and 35+ dedicated distributors across 28+ countries to get our customers one step closer to ride their dream vehicles.
We believe that our channel partners (dealers, retailers and mechanics) are key for us. We grow together and have initiated programs to train, raise awareness and resolve any concerns to further strengthen our relationship and make them part of the Endurance family.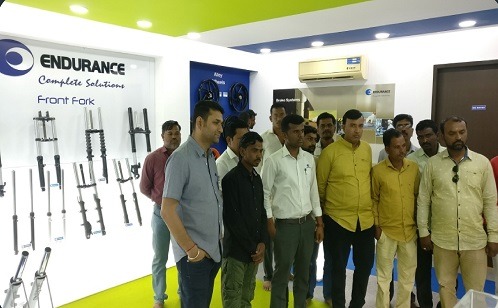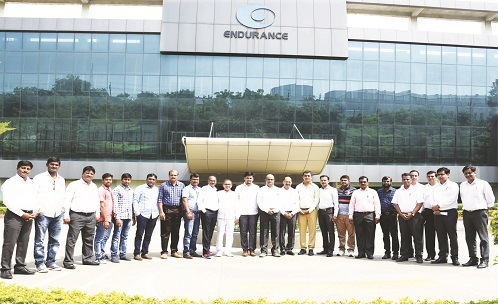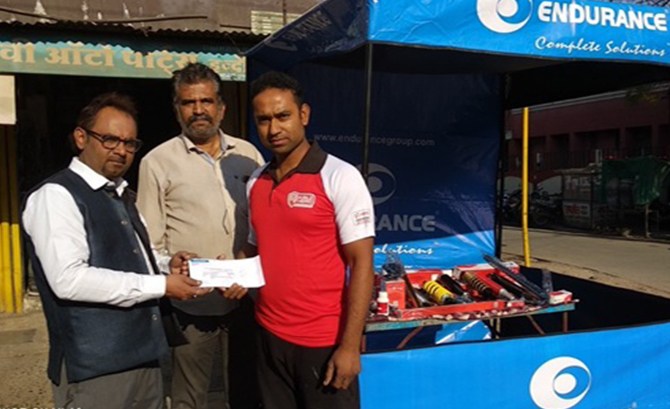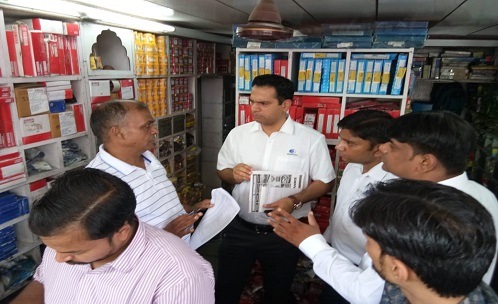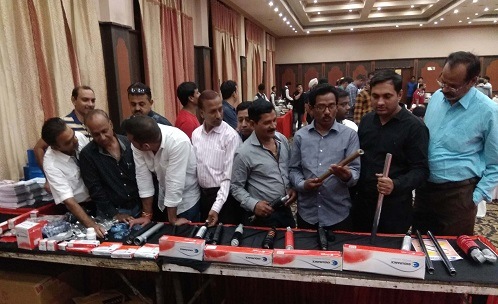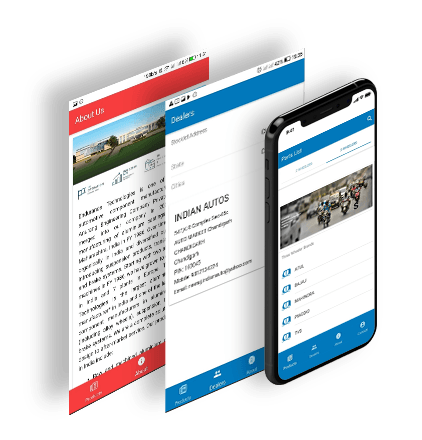 Educate Partners via Digital Platforms
In order to simplify our customers' journeys, we have developed a mobile app which guides customers about our product range, application and fit with vehicles of leading brands.
We have initiated Endurance Performance Club Retailer (EPCR) loyalty program to ensure availability of genuine Endurance products' , deliver value to our end customers and engagement with retailers. There are 7500+ retailers are enrolled in this program and growing.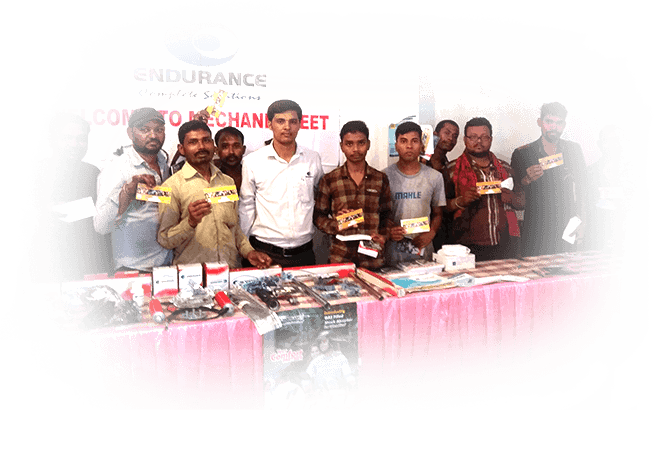 Products
Suspension
Transmission
Braking Systems
Value Added Products - Tyres
Other Value Added Products
Suspension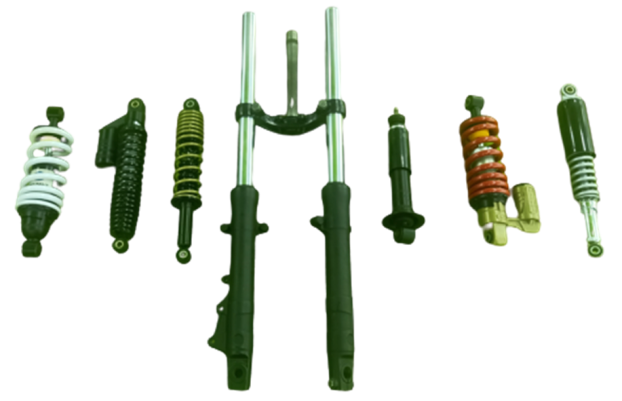 Endurance offers customized solutions considering comfort & safety of riders supported by expertise, innovation & strong R&D which earned a leading market position in OE as well as aftermarket customers. Our multilevel quality checks assu
SPECIALITIES
INCREASED OIL SEAL LIFE
BETTER CORROSION RESISTANCE
LOWER FRICTION RESISTANCE
SPECIALLY DESIGNED (To perform under severe muddy conditions)
Transmission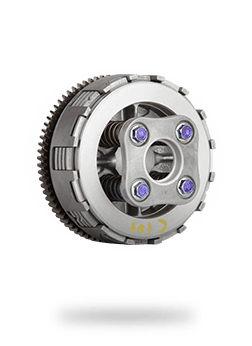 Transmission has played a major role in engine operation as it moves and stop the vehicle without damaging the engine. Considering the significance ETL has developed patented designs for certain Transmission parts which offers smooth performance to enhance the quality and functions of the vehicle i.e. more mileage, more life, high pickup etc. ETL always works with state of the art technology & innovative thought to produce the best quality products & emerged as a leading player in auto components.
SPECIALITIES
BETTER ACCELERATION
SMOOTH GEAR SHIFTING
LESS HANDLE LEVER EFFORT
CONSISTENT PERFORMANCE (Throughout the life due to stable coefficient of friction)
Braking Systems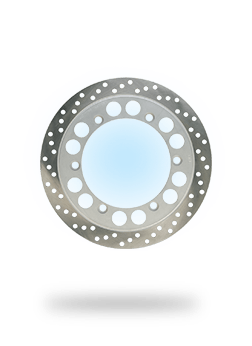 We manufacture a wide range of high-performance braking solutions for two and three-wheeler segments. Our innovative braking solutions have the ideal balance, better control, and optimal braking regardless of temperature, weather, and terrain.
SPECIALITIES
HIGH DURABLE BRAKE PADS
SHORTEST STOPPING DISTANCE
CONSISTENT PERFORMANCE UNDER ALL WEATHER CONDITIONS
CONSISTENT BRAKE PERFORMANCE
BRAKE DISC (Made with superior quality material)
DURABILITY
Value Added Products - Tyres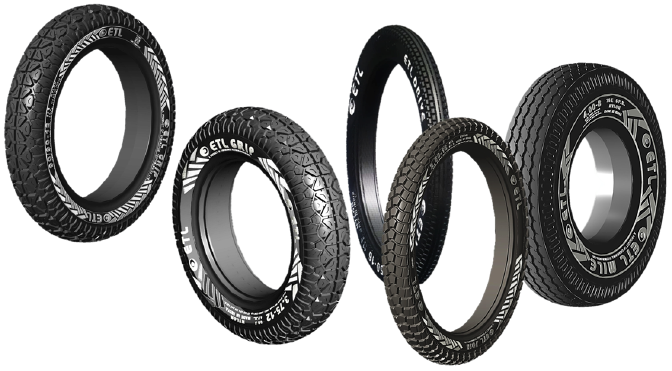 2 & 3 WHEELER / AUTO RICKSHAW / E-RICKSHAW / MOPED TYRES / 2 & 3 WHEELER PACKET TUBE
AUTO RICKSHAW TYRES
Unique RIB Tread Design and Deeper Skid Depth gives High Mileage
Broader Contact Area for Better Grip
Superior Rubber Compound gives Superior Performance
E-RICKSHAW TYRES
Broader Contact Area and Unique Block Tread Design gives Better Grip and Good Wet Traction
Deeper Skid Depth for High Mileage
Superior Rubber Compound gives Superior Performance
MOPED TYRES
Unique RIB Tread Design gives Better Straight Stability
Broader Contact Area for Better Grip
Superior Rubber Compound gives Superior Performance
2/3 WHEELER PACKET TUBE
Superior Strength
Longer Life
All Weather Durability
10x Air Retention
BUTYL Tubes are heat resistance maintain shape in all weather conditions and safer to use
BUTYL Tubes are stronger & durable which increases tyre life and promotes safer driving
Other Value Added Products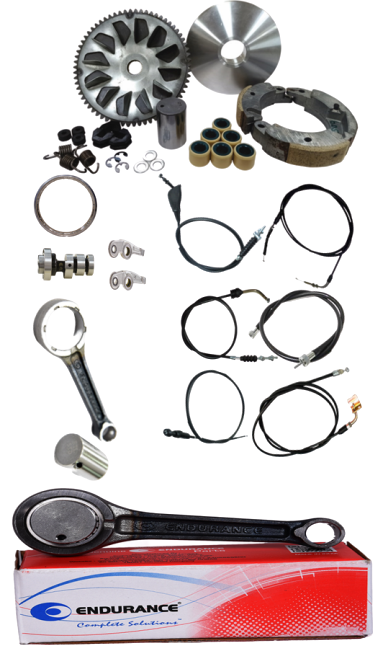 We are a complete solution provider from design to after-market service. Our products and services in India include:Raw and machined aluminium castings, alloy wheels for motorcycles. Suspension, Transmission and Braking products for scooters, motorcycles and 3 wheeler. After-market services to cater to the replacement market
WHEEL RIM:

Tri Nickel chrome electroplating
High Corrosion resistant
Highly durable
Superior performance

CAM – SHAFT ASSEMBLY:

Dimensional Accuracy
Optimum Torque
Low Maintenance
High durability
Highly efficient

CONTROL CABLES:

Friction free auto cables
Manufactured with High Carbon galvanized steel wire
EPDM Virgin material used in Cable cover.
Processed with trivalent Zinc passivation electroplating

ROCKER ARM:

Highly durable Resistance to wear & tear
Sturdy Construction
Low maintenance

CONNECTING ROD KIT:

Press forged Connecting Rods which gives it high material strength to bear the stress
Meets strict requirements of weight and size tolerance
Connecting Rod Bearing of A+ quality for stable operations under high temperature and loads
Enhanced functional life
Uniform size to minimize stress load over large uniformly shaped areas
Global presence in 28+ countries of South-East Asia, Africa, Middle East & Latin America and growing